About Mentally Healthy Workplaces
Simple, consistent quality assured advice in one place.
Take the guess work out of mentally healthy workplaces
By curating the latest information and resources for mentally healthy workplaces, we make it easy for you to stay up to date.
You can also use the Mentally Healthy Workplaces platform to:
Explore with confidence knowing all resources we link to are quality assured against our quality framework.
Personalise your experience through filtered searches or explore widely by industry, role or topic.
Learn and contribute through our library of case studies of different approaches other workplaces and industries have taken.
Stay in touch with the latest news and events.
All resources in the platform are linked to one or more of the three pillars of the Blueprint for Mentally Healthy Workplaces.
Create an account for additional features
By creating an account, you can unlock additional features in the Mentally Healthy Workplaces platform, including:
Track your progress through modules and series.
Save your favourite resources to your My Hub page.
Organise your saved resources into collections.
Share your collections with others in your team.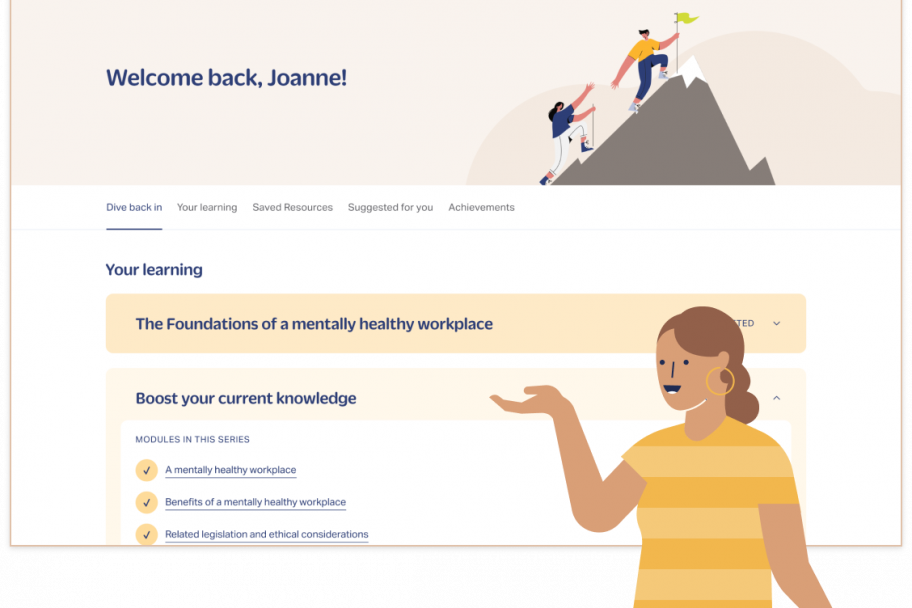 We are committed to working together for change
Creating mentally healthy workplaces across Australia requires action from individuals, workplaces, industries, associations and governments.
The Mentally Healthy Workplaces platform aims to connect people to the great work and resources already underway. It aims to inspire people to take action and become part of a community of knowledge.
We recognise that each workplace is unique, and there is no "one size fits all" approach to creating a mentally healthy workplace. Each person visiting this platform may have a slightly different question, need or circumstance.
We aim to help you navigate the important principles, legislation and ideas for applying this knowledge in your workplace.
The value of mentally healthy workplaces
Mentally healthy workplaces are good for both organisations and people. Leading organisations recognise that investing in the health of their workers is essential for a healthy bottom line.
Benefits of building a mentally healthy workplace include:
Increased productivity and engagement.
Reduced sick leave, compensation claims and unplanned time away from work.
Attracting and retaining people.
Teams that are able to adapt and adjust to change more successfully.
Being compliant with relevant legislation from work health and safety through to workplace relations.
We want to hear your views
Working collectively with workers, managers and people involved with the workplace is important for creating a mentally healthy workplace. It has also been important in shaping our approach.
This platform has been created as part of the National Workplace Initiative in collaboration with the Mentally Healthy Workplace Alliance, subject matter experts, workplaces around Australia and people with lived experience of mental ill-health. This input has played an invaluable role in shaping our approach.
Now it is your chance to get involved! By sharing your feedback on to us you can help refine how we help create mentally healthy workplaces. It may an idea for a new feature or information you would love to see.
Save resources and create shared collections with a My Hub account.